Centritherm® Evaporator Short Path Distillation
Superior distillation
Short-path or molecular distillation applications in the edible oil, polymer, chemical, flavour chemical, essential oil and similar industries typically require high temperatures and vacuums, which are not possible in traditional evaporation units. At Flavourtech we have specifically developed the RM-SP series of Centritherm® evaporators, which are designed with a unique internal condensing system to meet the requirements of short-path distillation.
Applications for this revolutionary technology include:
Separation and purification of Omega fatty acids
Removal of residual monomers from polymeric suspensions
Separation and purification of essential oils
Separation and purification of squalene
How it works
The RM series Centritherm evaporator consists of a single spinning cone, which is fixed to a rotating base, located within a static housing which includes a removable outer cover.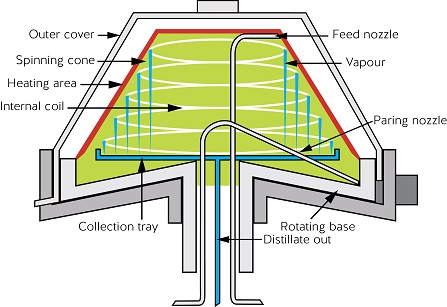 Product is fed onto the inner surface of the spinning cone through a feed tube and nozzle. Centrifugal force quickly distributes the liquid evenly over the heating surface in a very thin film, approximately 0.1 to 1.0 mm depending on the product viscosity, rotational speed and flow rate. The concentrate is then picked up by a stationary paring tube and pumped out of the unit.
The heat required to evaporate the boiling compounds is supplied to the product film through the thin, spinning cone wall. The heating medium, such as steam or hot oil, is located between the spinning cone and the outer cover.
The vaporised compounds leave the thin film of product and, when an internal condenser is used, are almost immediately condensed on the outer surface of condenser cooling tubes. A cooling medium is circulated within these tubes and the distillate that forms falls onto a collection plate and flows out of the evaporation chamber to a distillate pump.
The RM series Centritherm thin film evaporator units are available with both external (EC) or internal condensing systems (SP).