Recipient of Flavourtech Andrew Craig Engineering Scholarship Announced
9 3月 2023
Griffith Student, James Laviano, has been awarded the inaugural Flavourtech Andrew Craig Engineering Scholarship to pursue mechatronic engineering studies at the University of Newcastle. The scholarship was awarded based on James' academic achievements, extracurricular activities and his passion for engineering.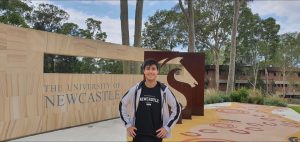 James, who has always been interested in how things work, says that he chose to pursue engineering because he enjoys problem-solving and finding solutions to complex problems. He plans to use his scholarship to study mechatronic engineering, with a focus on automation and control.
"I'm really excited to have received this scholarship," said James. "It's a huge honour, and it will help me achieve my goals of becoming an engineer."
This new scholarship has been established as part of a Flavourtech initiative to support students who are based in the Griffith NSW region where Flavourtech is headquartered. The program aims to invest in local talent and reduce the financial barriers for those enrolling in undergraduate engineering studies at a university of their choice. The selection committee looks for students who have shown leadership in our community and have a passion for using engineering to solve real-world problems.
The scholarship is named after one of the founders of Flavourtech, Andrew Craig, who helped develop the Spinning Cone Column in the late '70's, commercialising it from Griffith and thus starting the Flavourtech story.
Flavourtech General Manager, Leon Skaliotis, says "we were very impressed with the standard of all the applications we received. We selected James as his personal values resonates with our own company values. He also has a clear vision of what he wants to achieve with his engineering degree, and we believe he has the potential to make a significant impact in the field."
"I know that engineering is a challenging field, but I'm ready for the hard work and opportunities that come with it," said James. "Thank you Flavourtech, this scholarship is a huge help, and I'm so grateful for all the support and encouragement from my family, teachers and mentors".
Congratulations James!