Flavourtech awarded Resilient Exporter Award
4 May 2021
Flavourtech was one of fifteen businesses to be recognised at the 2020 Premier's NSW Resilient Exporter Awards luncheon in Sydney last week. The Premier's NSW Export Awards usually honour the achievements of outstanding local exporters but were adapted in 2020 to celebrate and promote stories of resilience, perseverance and adaptation under pressure.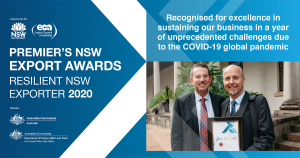 Investment NSW CEO, Amy Brown, said the awards shine a spotlight on stories of innovation and quick-thinking pivots by determined business leaders in the face of unprecedented challenges. "From regional to metro, and across exporters big and small, these are stories that highlight the tenacity of NSW businesses to keep putting their world-class goods and services in the hands of international buyers," Ms Brown said.
Chair of the Export Council of Australia, Dianne Tipping, said they've been inspired by the efforts of NSW exporters to sustain their businesses and continue in most circumstances to not only survive but in some instances thrive. "While many business owners will continue to feel the strains of a global economic downturn for some time to come, the stories from NSW exporters have inspired others to adapt, innovate, and diversify," Ms Tipping said.
Flavourtech would like to congratulate the fourteen other NSW businesses also named and wishes them continuing export success in the future. They were: Atomo Diagnostics, Christie & Christie, Cream Surfing Wax, DroneShield, F&H Jewellery, Global Study Partners, Hivery, HOMART Pharmaceuticals, Leatherwood Bespoke Rosin, Macka's Australian Black Angus Beef, Prophit Systems, ResMed, Safearth and Shaun Parker & Company.
Flavourtech's General Manager, Leon Skaliotis, proudly accepted the award on behalf of the entire Flavourtech team and thanked both the Export Council of Australia and Investment NSW for their support. "We would not be where we are today without the hard work, dedication and sacrifice each and every staff member has shown over the last 12 months."