Centritherm® evaporator
Retain your product's functional properties - Naturally
Flavourtech's Centritherm® evaporator is the ideal technology for producing high quality concentrates of products that are heat sensitive, viscous or of particularly high value.
With a residence time on the heating surface of only one second, and using evaporation temperatures as low as 35oC, the Centritherm® evaporator has minimal to no effect on colour and active constituents. This ensures that active ingredients are protected leading to higher yields of their valuable properties. The low temperatures used also ensure that no heat derived flavours are produced to alter the original flavour of your products.
Clever in design, the Centritherm® evaporator is much more compact than competing evaporators and can be installed quickly with minimal infrastructure requirements. A simple operator interface makes it easy to use and a built-in cleaning system means changeover from one product to the next is quick and easy.
Furthermore, its centrifugal design means it can reach higher concentrations than other evaporators and it is often used as a finisher in the evaporation process to reduce process and energy requirements downstream.
Applications of the Centritherm® evaporator include:
High quality tea and coffee concentrates
High quality fruit and vegetable concentrates
Solvent removal from botanicals and oleoresins
Solvent removal in the pharmaceutical industry
Concentration of vitamins, enzymes and active ingredients
How it works
The Centritherm® evaporator is a single-effect, centrifugal evaporator that operates under vacuum and uses steam as the heating medium. The heating surface is the underside of hollow, rotating cones that can be stacked vertically to increase the evaporative capacity for each model.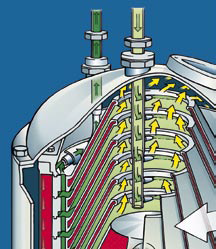 The product to be concentrated enters the evaporator through a feed tube and injection nozzles (one for each cone) distribute the product to the heating surface of each cone. Centrifugal force instantaneously spreads the product over the entire heating surface in an extremely thin layer (approximately 0.1 mm). The product passes across the heating surface in less than one second.
The concentrated product collects at the outer edge of the cones and then exits the evaporator through the stationary paring tube using the centrifugal force that is being generated by the cones.
Product vapour removed from the extract rises through the centre of the cone stack and is discharged to an external condenser.
Steam is supplied to the evaporator and fills the steam chamber. The flooded steam chamber then allows the steam to enter inside each hollow cone through the ports around the ring base of the cone.
As the steam condenses, it is immediately dispersed to the upper wall of the hollow steam chamber. The steam condensate then exits the steam chamber through a channel and is removed from the evaporator via a paring tube again using the centrifugal force being generated by the spinning cone.
The Centritherm® is easy to operate, service-friendly and hygienic, including built-in Clean In Place (CIP) functionality.