Flavourtech distributor, Scan American Corporation, celebrates 40 years of business
7 August 2017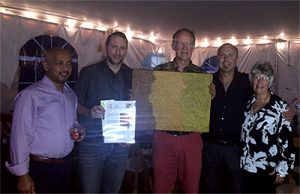 Flavourtech's U.S. distributor, Scan American Corporation, recently celebrated their 40th Anniversary in business.
Flavourtech joined other suppliers from Denmark and Sweden at celebrations in Vermont, USA. Over 80 people were hosted by owners Charlie and Anne Parker with great food, fun and even a Rockabilly band playing hits through the night.
Flavourtech's Vivian Chater, Leon Skaliotis and Aubrey Dyer presented Charlie and Anne an original Aboriginal painting along with the artist's story to mark the occasion.
Congratulations to all at Scan American Corporation and here's to another 40 years of successful business!