Flavourtech Named as Finalist in Export Council of Australia's State Awards
2 October 2018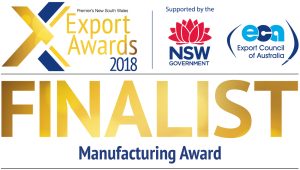 Following last month's win at the Regional NSW Business Chamber Awards, Flavourtech has been named as finalists in the 2018 Export Council of Australia's State Awards.
The Premier's NSW Export Awards showcase the strength, diversity and quality of the business talent in the State of NSW with a record number of 88 finalists across 19 awards categories being named this year.
Flavourtech was nominated for the category of Manufacturing alongside:
AH Beard Pty Ltd;
Jehbco Silicones;
Makinex Construction Products; and
WTG Pty Ltd
The award winners will be announced at a gala dinner on 24th October in Sydney. This year's dinner with be Indian themed in recognition of the NSW Government's focus on India and the enormous opportunities in that market for exporters from a range of sectors. The entire Flavourtech team eagerly awaits the results to see if we can win the Manufacturing category two years in a row!