Flavourtech Wins 2022 Premier's NSW Export Award
27 octubre 2022
Flavourtech is proud to be awarded Regional Exporter of the Year in the 2022 Premier's NSW Export Awards.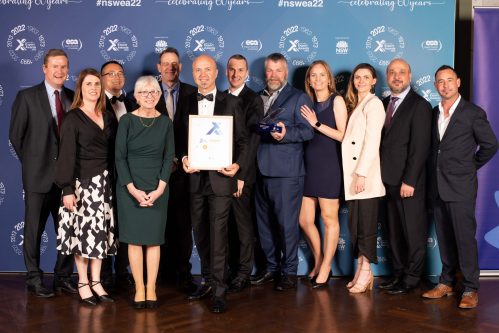 Flavourtech was a finalist in the Regional Exporter category of the awards that were announced at the majestic Sydney Town Hall on the 12th of October. The Premier's NSW Export Awards acknowledge the achievements exporters make in improving NSW's economic activity, boosting jobs and recognise their hard work and determination to succeed.
With our head office, pilot plant and manufacturing facilities based in Griffith NSW, Flavourtech is extremely proud to be a successful regional exporter and acknowledge our entire team's hard work and dedication. Our General Manager, Leon Skaliotis, proudly accepted the award in Sydney and thanked both the Export Council of Australia and Investment NSW for their continued support. He also commented that the company wouldn't be where it was today without the talented employees that make up the 'Flavourtech family'.
Flavourtech would like to congratulate the sixteen other NSW businesses named as category winners and wishes them continued export success in the future. They were:
Advanced Technologies – HIVERY
Agribusiness, Food and Beverages – Tru Blu Beverages
Creative Industries – Flying Bark Productions
E-commerce – aussieBum
Emerging Exporter – Twisted Healthy Treats
International Education and Training – UOW Global Enterprises
International Health – Pharmako Biotechnologies
Manufacturing and Advanced Materials – tna Solutions
Professional Services – IP Solved
Resources and Energy – Consep
Small Business – Sunglass Fix
Sustainability – Aquna Sustainable Murray Cod
NSW Development Impact Award – HA Tech
NSW Women in International Business Award – Fin Design + Effects – Emma Daines
Western Sydney Exporter Award – A.H. Beard
NSW Exporter to Asia Pacific Award – SafetyLink
Flavourtech will now join these companies in proceeding as finalists to the 60th Australian Export Awards to be held in Canberra on 24th of November. Please wish us luck!